Eden Outdoor Adventures
3 Currah Close
Ousby
Penrith
Cumbria
CA10 1AP
United Kingdom
Tel: 01768 881386 (evenings)
Mobiles: 07857 498051 or 07525 653099
Email: This email address is being protected from spambots. You need JavaScript enabled to view it.
Wild Camping
DO IT...
Wild Mountain Camp (2 Days)
Spending time in the mountains so often comes to an end too soon. Why not take two days out in the hills? Spend the day walking and exploring the fells and dales of the Lake District or Eden Valley and then pitch your tent. Sit back and relax and enjoy the sunset as you cook dinner. Sleep out under a blanket of stars and enjoy the tranquility of a wild mountain camp. The following day continue your mountain journey without the need to climb out of the valley! Eden Outdoor Adventures will introduce you to the skills needed to wild camp with minimal impact on the environment and help you enjoy your time in the mountains.
Grade:
A route with a reasonable amount of ascent and descent requiring a good level of fitness and some previous summer hill walking experience.
Cost:
2 people £350 £60 Per extra person
Optional Extras
We are able to arrange pick-up and drop-offs from Penrith railway station before and after the trip
What is Included
A qualified mountain leader to guide you during the trip
Use of tent, cooker, pans, mug, bowl, spoon, head torch
Lunch and evening meal on day 1; breakfast and lunch on day 2
What is Excluded
Transport to and from the start of the trip (unless booked as an optional extra from Penrith)
Waterproofs, rucksacks and walking poles (these can be hired for a small fee)
Sleeping bag and mat (these can be hired for a small fee)
Walking boots suitable for summer walking
Personal clothing (a kit list will be sent to you on booking)
end faq
About Us
Eden Outdoor Adventures is a small family run company. We take pride in providing safe, enjoyable activities for individuals, families and groups. We tailor all our days to suit you and your needs as much as possible. Our aim is to give you days out to remember!
Ian has worked in the Outdoors for over twenty years here in the UK and around the world. He regularly works with schools, colleges and adults, so is happy working with all ages from small children upwards. His experience means that he will have a good idea of what will make a great day out for you. Ian holds the Summer, Winter and International Mountain Leader qualifications. He is also able to offer rock climbing on single pitch crags around the UK. As a British Canoe Union coach he can teach and lead canoeing on lakes and rivers. Ian is a registered provider of the National Navigation Award Scheme, and Rescue Emergency Care (REC) first aid courses. As a registered Gold Duke of Edinburgh Assessor he can assess and supervise expeditions on foot and water. Ian is also passionate about the environment he works in and so teaches Leave No Trace outdoor ethics on all his days out.
His passion for the Outdoors finds him walking, climbing and canoeing around the UK and overseas. He regularly leads groups of young people and adults overseas to destinations such as the Alps, Morocco and Iceland. His qualifications and experience help him to provide you with some great adventures in the outdoors.
Melanie has lived in the Lake District and Cumbria for 20 years. She has raised her family here and so knows what makes a great day out for all the family. Her love for the area and its history and culture has led her to find many hidden treasures around the area. She is a qualified Blue Badge Tourist Guide for Cumbria and a Member of the Institute of Tourist Guides. Through living in and around the Lake District and her studies to become a Blue Badge Tourist Guide, Melanie is able to organise and guide a wide range of interesting and informative tours to suit all interests.
As a keen outdoor enthusiast she also helps run and support many of our outdoor adventures as well as offering some fantastic walking tours of her own. Melanie is keen to share her passion for the area and help you discover the hidden gems and places off the beaten track that your guide book might not tell you about.
Tay is our dog and can often be found out and about on one of our adventures or tours. He loves to spend time on the mountains or in a boat and is very friendly! So if you love dogs then let us know and he will be happy to come and join you on your next adventure with us!
Eden Outdoor Adventures also from time to time call upon the help of our friends to help deliver our activities. We choose these people for their qualifications and experience and their ability to provide you with the same high quality day out as we would ourselves. This way we are able to offer a wider range of dates or activities such as multi pitch climbing and scrambling as well as calling upon their expert local knowledge.
So let us give you a fantastic outdoor adventure or guided tour or perhaps help you learn a new skill? Whatever you choose, Eden Outdoor Adventures will provide that personal touch which makes our days out so special!
Guided Tours
SEE IT...
GUIDED TOURS
Are you looking for something less adventurous? Do you want to explore the sights of the Lake District, Eden Valley or Hadrian's Wall? Why not have a Blue Badge Tourist Guide show you hidden gems and tell you stories about the many special places to visit in Cumbria? Eden Outdoor Adventures can organise a half or full day or short tour to suit you and help you get the most from your time in the area.
Let Melanie take you on a tour of the beautiful Ullswater Valley to discover its fascinating past and present, including history, industry and farming.
Explore Keswick and the Borrowdale valley. Take a valley walk or moderate fell walk and stop at a great café on the way back. Or discover the many inspirations for some of Beatrix Potter's books as well as finding out about the many other famous people who made Keswick their home. For a special Beatrix Potter experience come with us by canoe to visit the island where Old Brown lived in the Tale of Squirrel Nutkin and view the Potter family holiday houses from the lake, before landing at Hawse End and exploring on foot many of the locations found in The Tale of Mrs Tiggywinkle. Join us and Discover Beatrix Potter's Borrowdale.
Grasmere is famous as the home of William Wordsworth. Explore his homes (Dove Cottage and Allan Bank are open to the public) and haunts and find out what else this picturesque Lakeland village has to offer, including the fascinating church and Sarah Nelson's Grasmere Gingerbread shop. Take a low level walk round the area to see some of the many sites, walking in the footsteps of Wordsworth or take a tour of the village area to learn more about its past and present. If you have a day to spare then it is possible to walk from Grasmere along Loughrigg Terrace or near the shore of Grasmere to Rydal. Here you can visit Rydal Church, Dora's field and Rydal Mount (the last house of William Wordsworth), or walk in the gardens of Rydal Hall and enjoy lunch or tea and scones in their cafe. Afterwards we return to Grasmere via the Corpse road - the old path used to carry coffins from Rydal to Grasmere for burial. Both routes have beautiful views of Grasmere itself and the surrounding fells and this walk makes a lovely day out. A one way journey would be an option, using a public service bus for part of the trip. Join us for the Wordsworth Grasmere walk.
Take a walking tour of Hawkshead where William Wordsworth went to school and Beatrix Potter's husband had his office. Then take a walk or make the journey to Hilltop, Near Sawrey, Beatrix Potter's most famous property and see the house nearby where she actually lived, plus some of the places that gave inspiration for the illustrations in her books. Alternatively you can leave your car in Hawkshead and get the bus up to Hill Top and after exploring the cottage and gardens, have a walk round the village looking at sites for illustrations in the little books and then return to Hawkshead on foot via Moss Eccles tarn - a favourite place of Mr and Mrs Heelis - and a walk with beautiful views across Windermere and the surrounding fells, via Claife Heights (approx 5 km, 3 miles easy walking). (Alternatively you can make both journeys by public bus). Join us to Discover Beatrix Potters Hawkshead and Sawrey.
Discover the history of Coniston, from its industrial heritage to the famous people who lived in and visited the area. Visit the home of John Ruskin, or learn about the speed record attempts by Donald Campbell. Walk through Monk Coniston estate to Tarn Hows and back to Coniston or take a walk up the Coppermines Valley or on the old railway line to learn about the industrial history. Join us to Discover Coniston.
Explore the hidden gems of Penrith, the Eden Valley and Northern Pennines - from stone circles to churches and castles to historic market towns and villages and restored industrial sites, taking in a visit to a good café en route if you wish to! Walking tours are available for Ullswater area and also Penrith and Alston and rural villages on the North Pennines. If you have a specific walk in mind, then please ask! Join us to Discover the Eden Valley.
Why not make the short journey north to visit the world famous Hadrian's Wall? Walk along part of the Wall and hear about what it was like to live on the Wall in Roman times. Visit one of the forts or museums to see what is left behind today and the fascinating finds from excavations! Walks can be combined with public transport to make a linear journey and can be for a day or more. Join us to Experience Hadrian's Wall.
It is possible to combine a tour with time spent canoeing on a lake or walking over one of the lower fells. You could even travel on a boat or steam train as part of your journey. For example, you could paddle a canoe from Glenridding to Howtown on Ullswater and then spend a few hours discovering the quiet valley of Martindale with its two lovely churches and then return to Glenridding on the Steamer to make a day to remember! If you are visiting the area, why not choose a to go out with a Blue Badge Guide and have a special day out?
Let Eden Outdoor Adventures give you a great day discovering more about the Lake District, Eden Valley and the Northern Pennines. If you have somewhere in mind to visit that is not mentioned here then ask us and we will be happy to help! We look forward to seeing you in Cumbria and to making your visit one to remember.
Price
Accommodation
Lowthwaite B&B, Matterdale, Near Ullswater
Milburn Grange, holiday cottages, Knock, Appleby in Westmoreland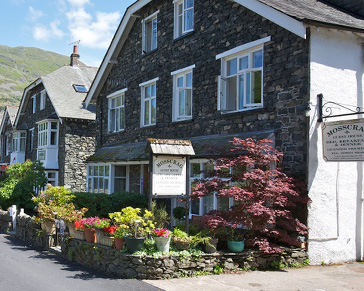 The Langton Centre, Hartsop, Group Accommodation
Eden District Council - Visit Eden
Mountain Weather
Mountain Weather Information Service
Scottish Avalanche Information
Professional Organisations